On-line exhibition dates: May 16, 2020 – June 27, 2020
On-Line Artists: Elizabeth Addison, Isa Amalee, Kimberley Boetsch, Paula Bullwinkel, Alexandra Cicorschi, Philip Coleman, Harlan Crowder, Judy Davis, James E. Davis, Nimisha Doongarwal, Merrilyn Duzy, Rickard Dweck, Golda Disc Eigo, Danielle Eubank, Timothy Flanagan, Suvan Geer, Nikolas Soren Goodich, Rinat Goren, Jane Ivory, Mary Lavezzo, Gene Lee, Stela Mandel, Rusudan (Rusi) Mchedlishvili, Joan Meade, Laura Ockel, Jon Rees, Roz Ritter, Jeanne Rosen Sofen, Luz Ruiz, Whitney Sanford, Jo Scheder, Bob Shepps, Tilroe Stevenson, Sarah Stone, Kathleen Studebaker, Keith Thomson, Marie Travers, and Ruthie K. Yamada
The "Reflections" National Juried Exhibition catalog is available to order through Amazon :
https://www.amazon.com/Reflections
---
[Cancelled] stARTup Art Fair San Francisco

I am pleased to announce my participation at the stARTup Art Fair, which will take place at the Hotel Del Sol in San Francisco April 24-26, 2020. Visit my room 214 to see my latest works! I will also be showing part of my process in a small woodshop setup.
Fair schedule:
FRIDAY, APRIL 24 // 6 – 10PM
Press and VIP 1st Look Preview between 6 – 7pm
Opening Night Party at 7 – 10pm
SATURDAY, APRIL 25 // NOON – 9PM

SUNDAY, APRIL 26 // NOON – 7PM
Hotel del Sol
3100 Webster St, San Francisco, CA 94123
---
Self Portraits - Opening Reception

Opening reception:
March 6, 6pm-8pm
More details on
Facebook
and
Eventbrite
.
The solo exhibition titled
Self Portraits
will feature a new body of work created with salvaged wood and oil paint. The exhibition will run from
March 5 to April 28, 2020
* at Four Barrel Coffee.
*[UPDATE: due to COVID19 closures, the exhibit is still on display until further notice]
Four Barrel is a cafe and roastery that has been supporting artists with exhibitions since 2008. This exhibition is free and open to the public.
Four Barrel Coffee

375 Valencia Street, San Francisco
Open 7am-8pm daily
---
Resolution - Closing reception
The closing party for the
Resolution
exhibition is on
Friday, February 28 from 6pm-9pm
at Palette Gallery.
More details on
Eventbrite
and
Facebook
.
Palette Gallery - 816 Folsom Street, San Francisco
Gallery Hours:
Tuesday - Thursday, 12pm-9pm
Friday, 12pm-10pm
Saturday, 5pm-10pm
---
Artist Reception at Ritual Coffe

Thursday, January 30, 2020
8:00 PM to 9:00 PM
Ritual Coffee

1026 Valencia Street, San Francisco
Exhibition dates:
November 26, 2019 - February 24, 2020
Celebrate three local female artists at Ritual Coffee Roasters with complimentary wine and snacks!
The
Eventbrite
&
Facebook
links are here. e
---
Resolution - Artist Reception at Palette Gallery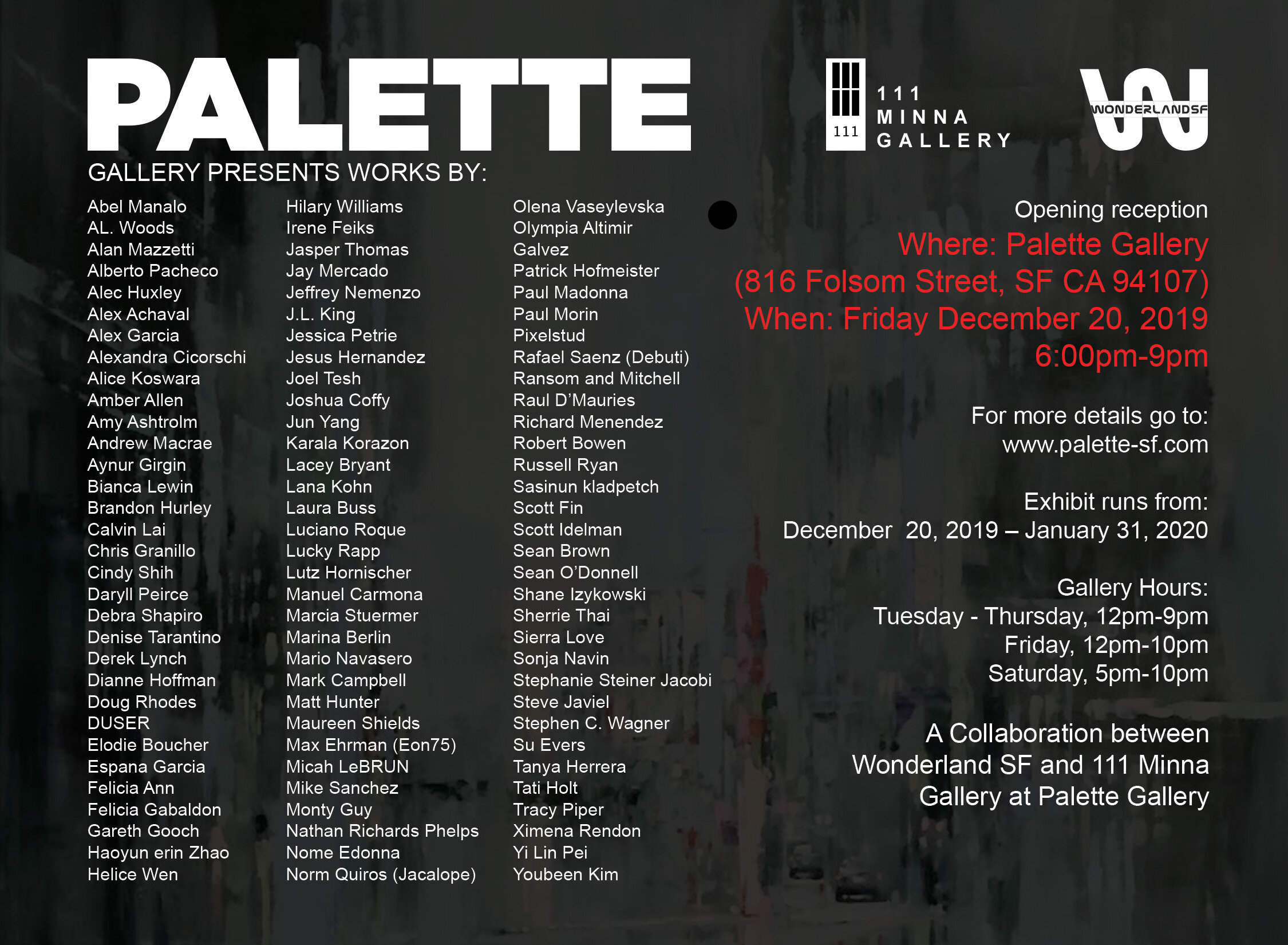 Friday, December 20, 2019
6:00 PM 9:00 PM
Resolution
is a Collaboration between Wonderland SF and 111 Minna Gallery at Palette Gallery
Exhibit runs from
December 20, 2019 to January 31, 2020
.
Palette Gallery - 816 Folsom Street, San Francisco

Gallery Hours:
Tuesday - Thursday, 12pm-9pm
Friday, 12pm-10pm
Saturday, 5pm-10pm