Latest Newsletter

---

MARCH 12
2022
3pm

Artist tour


Come hear me talk about the origin story of the pieces of wood used in my works and how my new body of work "No Middle Ground" confronts situations of conflict.

Space is limited. Please register to attend:



---
JANUARY 15
to
APRIL 1
2022
Solo exhibition "No Middle Ground"

"I want to protect | I want to discard", work in progress
I am pleased to announce my first solo exhibition at the TINT Gallery in San Francisco.

In my new body of work, "No Middle Ground", I reflect on situations of contradiction between people. What happens when there is no joint path between two desired courses of action? The place of no middle ground is the liminal space where forces crash into each other as well as pull away in opposite directions. It is a situation of rivalry between two individuals as much as the utmost trial for their solidarity to each other.
Opening reception
January 15, 2022
6:00pm - 9:00pm
TINT Gallery
149 Gough Street
San Francisco, CA 94102
Facebook event:
https://fb.me/e/12o2QlTm5
---
OCT 22 2021
to
FEBR 10 2022
Group Exhibition at the Mills Building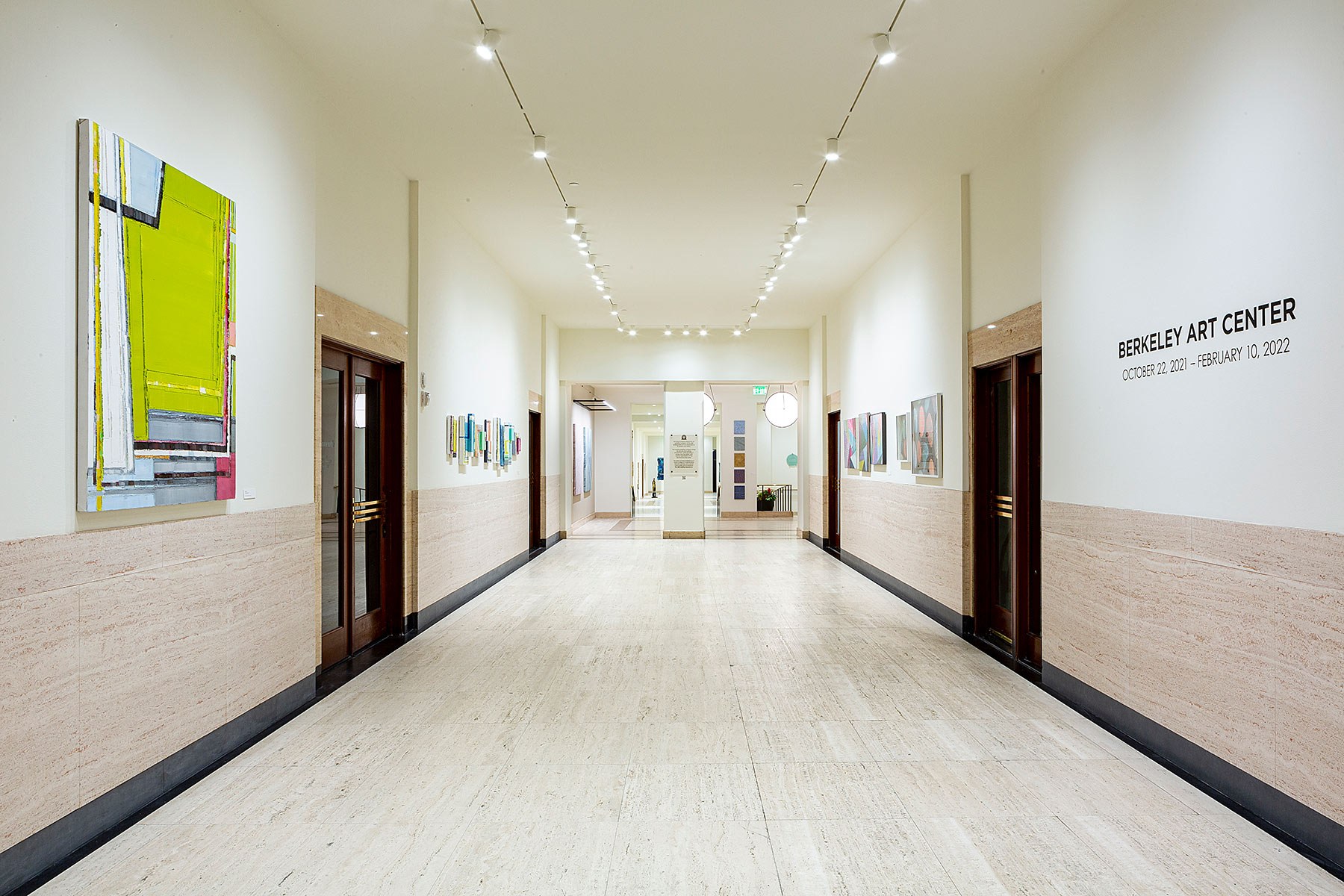 Alice Beasley, Leo Bersamina, Alexandra Cicorschi, Uma Rani Iyli, Maya Kabat, Mel Prest, Brian Singer, Simon Tran and Rochelle Youk
The Swig Company is pleased to reveal the new Mills Building Lobby with an exhibit featuring artist members of the Berkeley Art Center. This exhibit is part of a rotating exhibition program sponsored by The Mills Building for the pleasure of its tenants and visitors, and curated by Artsource Consulting.
---
Uplift/ Heavy Lift
Curated by Thea Quiray Tagle
In this year's juried show at the
Berkeley Art Center
, 39 artists reflect on the nuanced layers of rage, strength, grief, resilience, and perseverance that have marked our lives over the past 15 months. Collectively, works in the exhibition acknowledge the potential for art to provide an anchor in challenging times as we move from isolation back out into the world at large.
1275 Walnut Street
Berkley, CA 94709
510.644.6893
Gallery hours:
Wed-Sun, 11AM-5PM
---
imPosible | Zona Maco
PRPG.MX presents
imPosible
, a collective exhibition of artists in residency who transformed a year of pandemia which closed cultural programming and left artists isolated in their studios.
Proyectos Galeria MX is a Dab Art Co. satellite gallery located in Colonia Juarez, Mexico City.
Calle Lucerna 1, Colonia Juarez, Cuauhtemoc, CDMX, MX 06600
---
---
APRIL 17
through
MAY 16
2021
7th Annual Juried Art Show

The 7th Annual Juried Art Show, presented by
Piedmont Center for the Arts
, returns for a juried art exhibition selected from submissions highlighting a large variety of contemporary two-dimensional works by Bay Area artists, exploring the theme of
Transitions
.
The Juried Art show will be on view at Piedmont Center for the Arts, 801 Magnolia Avenue, on weekend days from Saturday, April 17, through Sunday, May 16, 2021, from 12:00 to 2:00 p.m. each day.
Please
CLICK HERE
to register for your visit.
---
Interview with Vogue Korea
Full interview (in Korean)
here
.
---
Solo exhibit - Self Portraits
Presented by Dab Art Co. satellite gallery in Mexico City and Proyectos Galería (PRPG.mx):
https://www.artsy.net/
---
Interview with MerciSF

Full interveiw
here
.
---
Group exhibition, 111 Minna Gallery, San Francisco, CA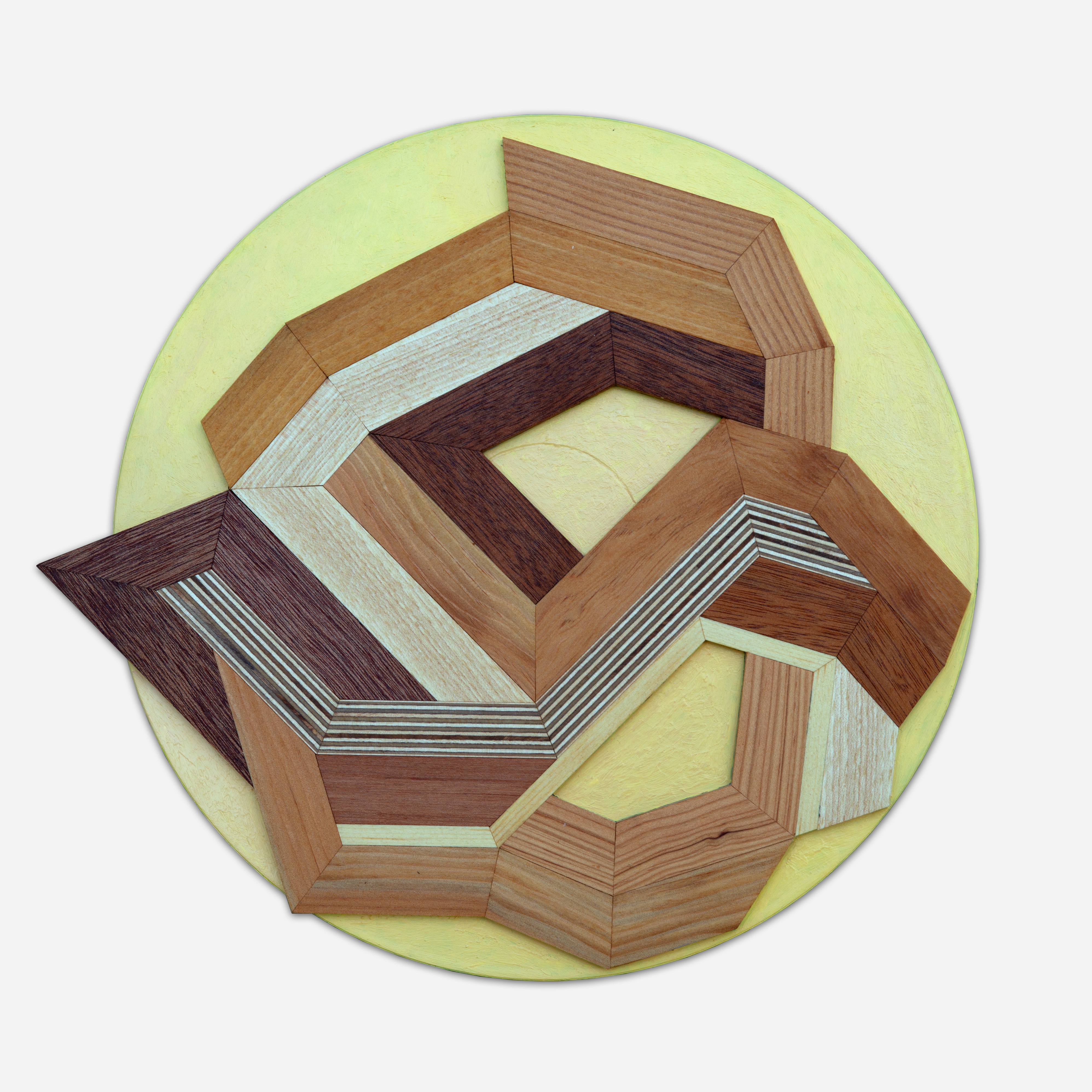 Group exhibition showing over 100 artists that have drawn, painted, and collaged on 12 inches of beautiful Vinyl.
111 Minna Gallery
111 Minna Street
San Francisco, CA 94105

---
"BASL" Juried Group Exhibition, Voss Gallery, San Francisco
"BASL: Bay Art Seekers Lounge" is a group exhibition dedicated to amplifying the diverse voices of the Bay Area's creative community.
Voss Gallery
3344 24th St.
San Francisco, CA 94110
---
"Abstracts 2020" Group Exhibition, J. Mane Gallery (online exhibition)


Honorable Mention award

J. Mane Gallery is pleased to present its 3rd Abstracts International Online Juried Art Exhibition.

---
Exhibition is open by appointment at 805 University Avenue, #E, Los Gatos, California 9503.
---
American Contemporary Craft: A National Juried Exhibition, Lubbock, TX

Founded in 1997, LHUCA, the Louise Hopkins Underwood Center for the Arts, is a nationally recognized private, 501(c)(3) non-profit fine arts center.
LHUCA
Martin McDonald Gallery
511 Ave. K Lubbock, TX 79401
---
---
On-line exhibition dates: May 16, 2020 – June 27, 2020
On-Line Artists: Elizabeth Addison, Isa Amalee, Kimberley Boetsch, Paula Bullwinkel, Alexandra Cicorschi, Philip Coleman, Harlan Crowder, Judy Davis, James E. Davis, Nimisha Doongarwal, Merrilyn Duzy, Rickard Dweck, Golda Disc Eigo, Danielle Eubank, Timothy Flanagan, Suvan Geer, Nikolas Soren Goodich, Rinat Goren, Jane Ivory, Mary Lavezzo, Gene Lee, Stela Mandel, Rusudan (Rusi) Mchedlishvili, Joan Meade, Laura Ockel, Jon Rees, Roz Ritter, Jeanne Rosen Sofen, Luz Ruiz, Whitney Sanford, Jo Scheder, Bob Shepps, Tilroe Stevenson, Sarah Stone, Kathleen Studebaker, Keith Thomson, Marie Travers, and Ruthie K. Yamada
The "Reflections" National Juried Exhibition catalog is available to order through Amazon :
https://www.amazon.com/Reflections
---
[Cancelled] stARTup Art Fair San Francisco

I am pleased to announce my participation at the stARTup Art Fair, which will take place at the Hotel Del Sol in San Francisco April 24-26, 2020. Visit my room 214 to see my latest works! I will also be showing part of my process in a small woodshop setup.
Fair schedule:
FRIDAY, APRIL 24 // 6 – 10PM
Press and VIP 1st Look Preview between 6 – 7pm
Opening Night Party at 7 – 10pm
SATURDAY, APRIL 25 // NOON – 9PM

SUNDAY, APRIL 26 // NOON – 7PM
Hotel del Sol
3100 Webster St, San Francisco, CA 94123
---
Self Portraits - Opening Reception

Opening reception:
March 6, 6pm-8pm
More details on
Facebook
and
Eventbrite
.
The solo exhibition titled
Self Portraits
will feature a new body of work created with salvaged wood and oil paint. The exhibition will run from
March 5 to April 28, 2020
* at Four Barrel Coffee.
*[UPDATE: due to COVID19 closures, the exhibit is still on display until further notice]
Four Barrel is a cafe and roastery that has been supporting artists with exhibitions since 2008. This exhibition is free and open to the public.
Four Barrel Coffee

375 Valencia Street, San Francisco
Open 7am-8pm daily
---
Resolution - Closing reception
The closing party for the
Resolution
exhibition is on
Friday, February 28 from 6pm-9pm
at Palette Gallery.
More details on
Eventbrite
and
Facebook
.
Palette Gallery - 816 Folsom Street, San Francisco
Gallery Hours:
Tuesday - Thursday, 12pm-9pm
Friday, 12pm-10pm
Saturday, 5pm-10pm
---
Artist Reception at Ritual Coffe

Thursday, January 30, 2020
8:00 PM to 9:00 PM
Ritual Coffee

1026 Valencia Street, San Francisco
Exhibition dates:
November 26, 2019 - February 24, 2020
Celebrate three local female artists at Ritual Coffee Roasters with complimentary wine and snacks!
The
Eventbrite
&
Facebook
links are here. e
---
Resolution - Artist Reception at Palette Gallery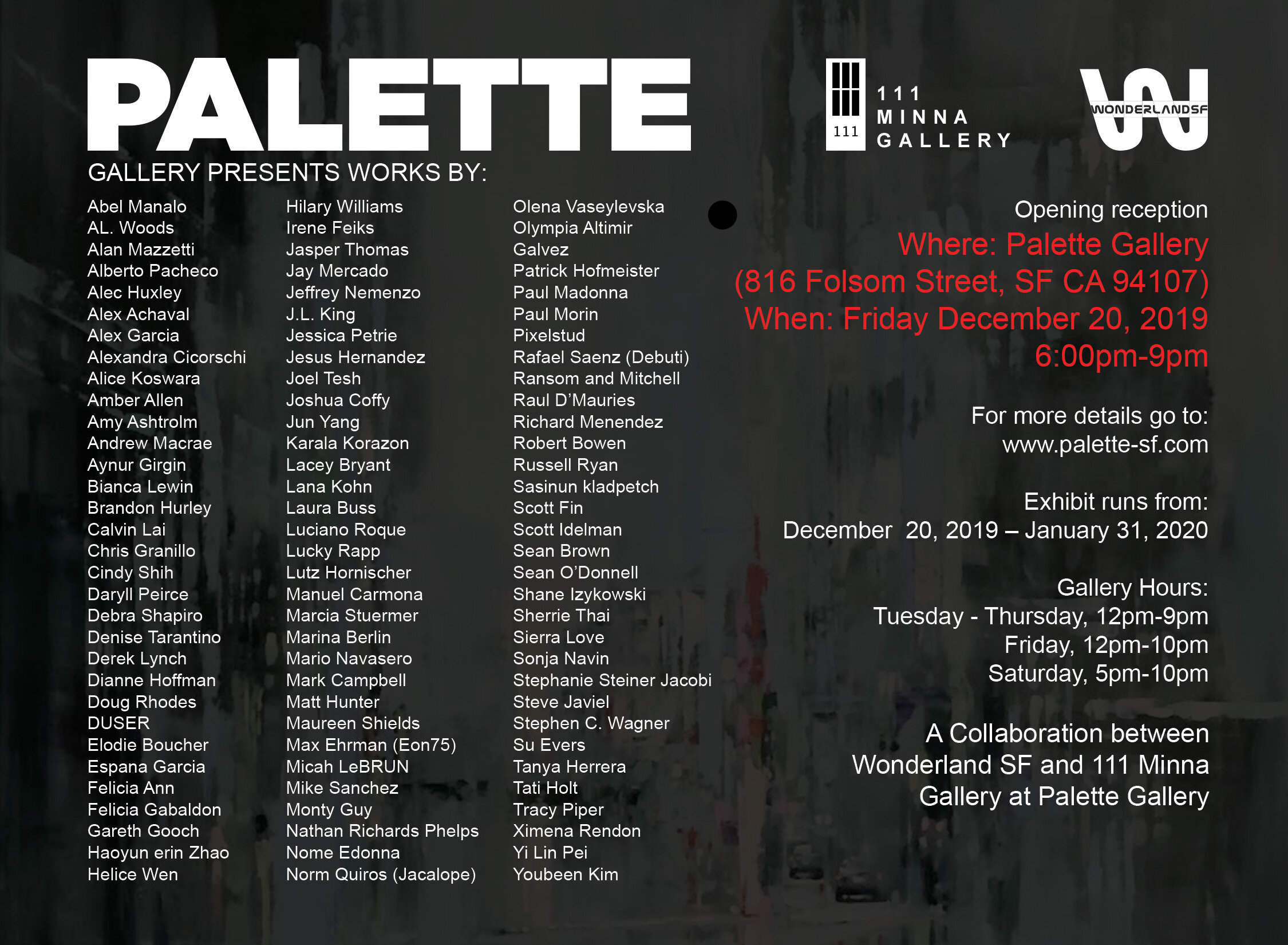 Friday, December 20, 2019
6:00 PM 9:00 PM
Resolution
is a Collaboration between Wonderland SF and 111 Minna Gallery at Palette Gallery
Exhibit runs from
December 20, 2019 to January 31, 2020
.
Palette Gallery - 816 Folsom Street, San Francisco

Gallery Hours:
Tuesday - Thursday, 12pm-9pm
Friday, 12pm-10pm
Saturday, 5pm-10pm